40G QSFP+ SR4 wiring solution
December 04,2017 18:36:01
Nowadays, 40G network has gradually developed into a backbone network for long-distance network transmission applications. It is widely used in 40G short distance network transmission. Because 40G network wiring is more difficult than 10G, need more patch cords and space. To know how it works is very important.
Today here we will introduce some high density QSFP+ SR4 optical module wiring methods.
1.What is 40G QSFP+ SR4 Transceivers?
40G QSFP+ SR4

is the most popular

40G fiber optic transceiver

for transmission in short distance, it can transmit 100m or 150m. It supports MPO/MTP interface.
2.How does 40G QSFP+ SR4 works?
It achieve 40G optical signal transmitting and receiving at the same time via a ribbon fiber cable. The following picture show us how it works.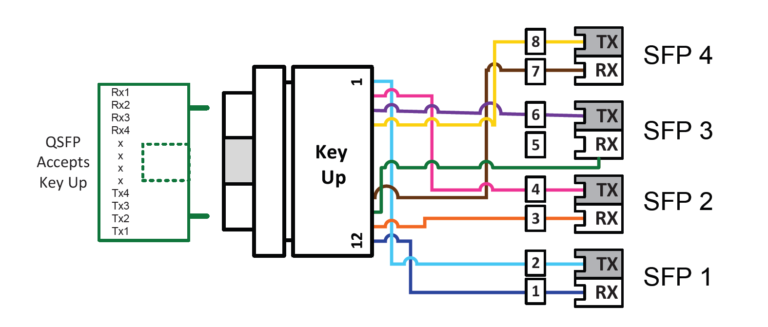 3. Where is 40G QSFP+ SR4 applied in?
Application1: QSFP+ SR4 40G to 40G Applications
The transmission of 40G to 40G in the 40G optical fiber network environment. Insert two QSFP+ SR4 modules into two 40G switches respectively. Then the two optical modules can be connected by the MTP backbone multimode patch cords. This is the simplest connection way of QSFP + SR4 optical module.

Application 2:40G QSFP+ SR4 to 10G Applications
QSFP+ SR4 is a parallel optical module, which means that it uses four optical fiber interfaces for simultaneous reception. 40G's optical fiber signals can be divided into 4 10G signals, to meet the needs of 40G to 10G network transmission.

4.Do we ETU-link supply 40G QSFP+SR4 Transceivers?
Yes, we do.
ETU PN:

EQSP854A-3MCD01
Description: 40G QSFP+ SR4 850nm 100M MPO connector with DDM

Thanks for your reading, Hope it will be helpful for you! And welcome to contact with us at

sales@etulinktechnology.com.

We'll do our best to service you. We are willing to to learn more with you.
Related Tags : 40G QSFP+ SR4 Transceivers 40G fiber optic transceiver Optical Tranceiver Modules
Previous :What is DAC?