Characteristics and application of 56G optical module
November 28,2019 14:55:40
In the era of big data with rapid growth of business traffic, the development of technology is more and more diversified. Users like high-speed, stable interconnection, high performance and low power consumption. The 56G QSFP+ SR4 optical module is a duplex transceiver module, which has such characteristics. Today, we will introduce this optical module in detail for you.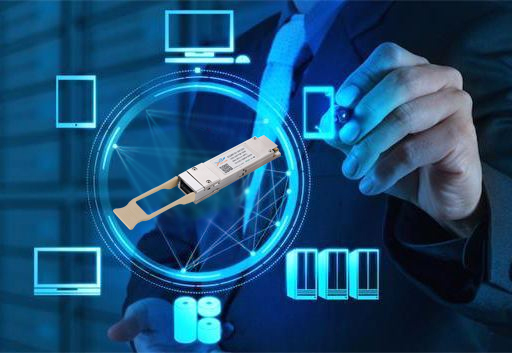 Product Description:
QSFP-56G-SR4 is a four channels, used for InfiniBand FDR / QDR / DDR / SDR, 16G / 10G / 8G / 4G / 2G fiber channel, PCIe and SAS, hot pluggable. The optical module is a high performance module and interconnection application for short-range multichannel data communication. It integrates four data channels with 56 Gbps bandwidth in each direction.
These modules are designed to operate on a multimode fiber system with a wavelength of 850nm. 38 contact edge type connector is used for electrical interface. Optical interface uses 12 fiber MTP (MPO) connector.
The module combines the reliable circuit of ETU-Link and VCSEL technology to provide reliable long life, high performance and consistent service. VCSEL and pin array packaging are key technologies, which can be contacted with modules through I2C system. The maximum link length on the OM3 multimode fiber (MMF) is 100m, while the maximum link length on the OM4 MMF is 150m.
Product features:
v Four channel full duplex transceiver module
v Up to 14.025Gbit/s data rate per channel
v 4-channel 850nm VCSEL array
v 4-channel PIN photodetector array
v Low power consumption<1.5W
v Hot plug QSFP package
v MPO Connector
| | | | |
| --- | --- | --- | --- |
| PN | Data Rate | Package | Wavelength |
| QSFP-56G-SR4 | 56Gbps | QSFP+ | 850nm |
| Distance | Working Temperature | Supply Voltage | DDM |
| 100M/150M | 0~70℃ | 3.3V | Support |
In order to improve the quality of optical modules, ETU-Link keeps innovating and improving the product categories, and provides various high-quality and high-performance optical modules to users, so as to help users more conveniently and flexibly set up data center access network.
Related Tags : 56G QSFP+ SR4 optical module QSFP-56G-SR4
Previous :Introduction about 16G SFP+ BIDI optical module
Next :40G QSFP+ ER4 optical module product features and application