: +86-755-2328 4603
: Sales@etulinktechnology.com
: 4th Floor, C Building, JinBoLong Industrial Park, QingQuan Road, LongHua District, Shenzhen city, GuangDongProvince,China 518109
CWDM MUX/DEMUX
Product Origin:Made in China
Shipping Port:ShenZhen
If you would like to know more about product information, please click here
Adobe Reader
to download the data sheet
CWDM MUX/DEMUX (Coarse Wavelength Division Multiplexer/Demultiplexer) is a flexible and low-cost solution that enables the expansion of existing fiber capacity. Coupled with highly reliable passive optics certified for environmentally hardened applications, the CWDM MUX/DEMUX solution lets operators make full use of available fiber bandwidth in local loop and enterprise architectures. The CWDM MUX/DEMUX modules split up to 18 channels (20 nm spaced) to a single fiber. The standard packages are ABS Plastic Box, 19" Rack Mount Chassis and LGX Metal Box.
Features
Low Insertion Loss
High Isolation
Low PDL
Compact Design
Good channel-to-channel uniformity
Wide Operating Wavelength: From 1260nm to 1620nm
Wide Operating Temperature: From -40℃ to 85℃
High Reliability and Stability

Applications
CWDM System
PON Networks
CATV Links

Compliance
Telcordia GR-1209-CORE-2001
Telcordia GR-1221-CORE-1999
RoHS

Specifications (1×N CWDM Mux/Demux Module)
Operating Wavelength (nm)

SMF-28e or customer specified

Maximum Optical Power (mw)

Operating Temperature (℃)
Notes:
1) Specified without connectors.
2) Add an additional 0.2dB loss per connector.

Mechanical Dimensions CWDM Mux/Demux Module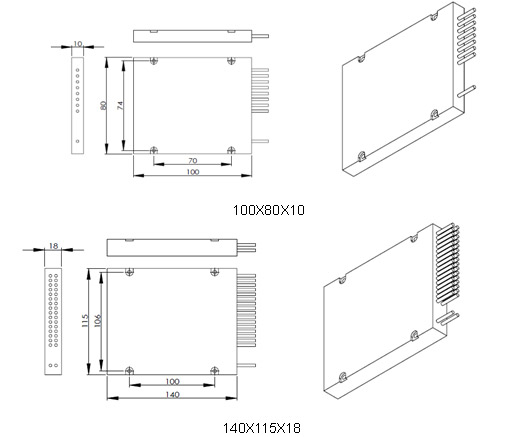 Ordering information (CWDM Mux/Demux Module)

Related Tags : 32 channel Coarse Wavelength Division Multiplexing 16 channel CWDM Mux/Demux 8 Channel CWDM Mux/Demux WDM System
Previous:DWDM Mux/Demux