The introduction of TP-LINK switch models
June 22,2016 10:50:59
Founded in 1996, TP-LINK has become one of the world's leading providers of SOHO & SMB networking products, offering both innovative and award winning solutions to the market. TP-LINK supply to over 120 countries, serving tens of millions of consumers worldwide.
TP-LINK is a company that is fully committed to developing its products, services and consumer relations through extensive R&D, strict Quality Assurance practices, and effective outreach initiatives. Customer loyalty through interaction, focus and feedback are policies that help form the TP-LINK culture, as well as a commitment to achieve, and a dedication to innovate.
Today we will share the TP-LINK TL-SL5428 Switches with you.
TL-SL5428 switch is a new generation of two layer full network management switch which is designed for building high security and high performance network requirements, with 4 Gigabit uplink interface.Provide a complete security strategy, perfect QoS strategy and a wealth of VLAN functions, easy to manage and maintain. Meet the network and access requirements of small and medium enterprises, intelligent Community, hotels, office network and campus network.
Product features:
※ 24 10/100M adaptive RJ45 ports, 4 10/100/1000M adaptive RJ45 ports and 4 multiplexing Gigabit SFP (GBIC mini) optical module expansion slot,flexible extension
※ Perfect security strategy,meet the requirements of network security
※ Support multiple spanning tree protocol,ensure the high reliability of the network
※ Provide Web network management, CLI command line, SNMP and other management methods, support SSL, SSH security management
※ Support standard cluster management, topology discovery and other functions
※ Provide log grading, log file export, etc
Typical applications of backbone Gigabit networks
Application topology 1: Campus Network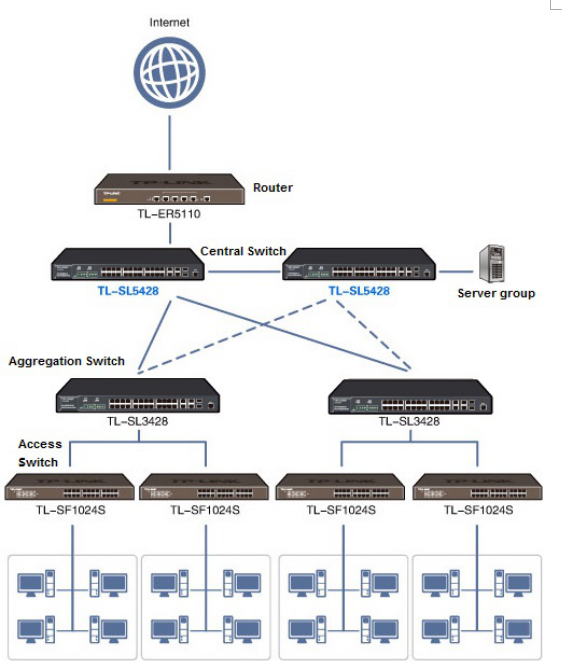 Equipment list
| | | |
| --- | --- | --- |
| Type | Model | Name |
| Router | TL-ER5110 | High-performance Internet router |
| Central Switch | TL-SL5428 | 24+4G Gigabit two layer full network management switch |
| Aggregation Switch | TL-SL3428 | 24+4G Gigabit two layer network management switch |
| Access Switch | TL-SF1016S/TL-SF1024S | 10/100M adaptive Ethernet switch |
Application topology 2: Hotel networks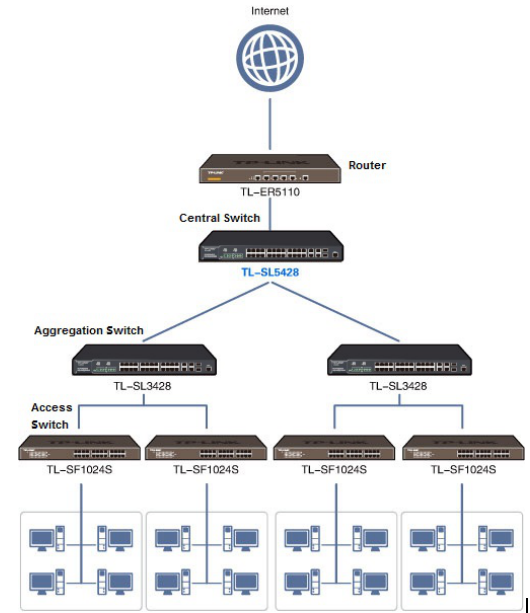 Equipment list
| | | |
| --- | --- | --- |
| Type | Model | Name |
| Router | TL-ER5110 | High-performance Internet router |
| Central Switch | TL-SL5428 | 24+4G Gigabit two layer full network management switch |
| Aggregation Switch | TL-SL3428 | 24+4G Gigabit two layer network management switch |
| Access Switch | TL-SF1016S/TL-SF1024S | 10/100M adaptive Ethernet switch |
The corresponding model of TP-LINK modules and ETU-Link modules:
TP-LINK module PN

ETU module PN

Description

1.25Gbps

SFP Modules

TL-SM311LM

ES8512-3LCD05

1.25G SFP MM 850nm 550M LC connector with DDM

TL-SM321A

ESB5312-3LCD10

1.25G BIDI SFP SM TX1550/RX1310nm 10km LC connector with DDM

TL-SM321B

ESB3512-3LCD10

1.25G BIDI SFP SM TX1310/RX1550nm 10km LC connector with DDM

10Gbps

XFP Modules

TXM431-LR

EX3192-3LCD10

10G XFP LR SM 1310nm 10KM LC connector with DDM
Related Tags : Juniper Switch Active Copper Cable SFP+ DAC cable
Previous :The difference between multimode and single-mode SFP