Four "W" of MPO Patch Cords
February 24,2018 09:28:10
Those days, so many customers asked us about the MPO patch cords, and we had a training later, And now let us share some with you, hope it can be helpful for you.
1. What is the MPO patch cord ?
MPO connector is the short of Multi-fiber Push On, it is one of the MT connector series,
This connector has more than 1pcs ferrule, snapped into place by mechanical means.
MTP connector is a multi-innovative and high-performance MPO connector, that is optically and mechanically superior to typical MPO connectors.
MPO connectors and fiber optic cable can be processed to produce various forms of MPO patch cords.
2. What are the types of MPO patch cord?
For the MPO patch cords, there are many types:
a. Core: 8core / 12core / 24core / 36core / 48core / 72core / 144core;
b. Have branch or not: MTP / MPO trunk patch cord and MTP / MPO branch patch cord, branch have the connector of SC/LC/ST/FC;

c. PIN connecting Type: Direct connection Type A / Cross Type B / Pair Cross Type C / Universal Config Type D: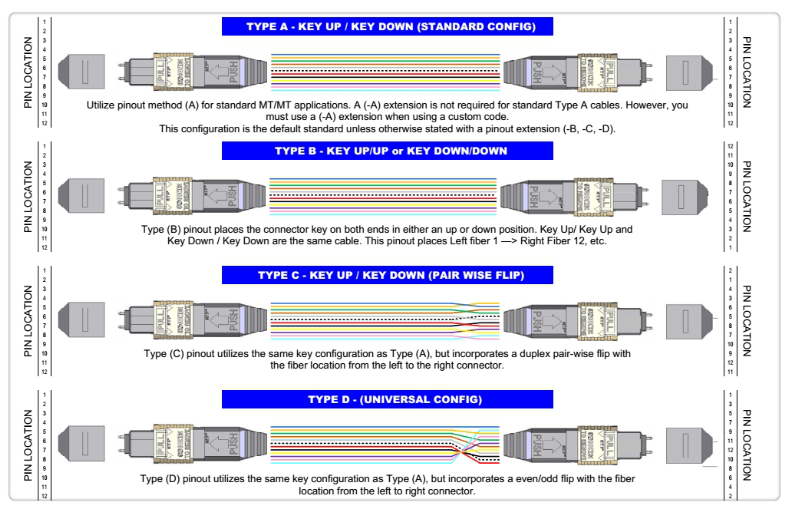 d. Female & male: Female to Female / Male to male / Female to male;
e. Patch cord type: Multi-mode / Single-Mode.
f. Distance: different distance patch cords as you want.
3.What is the application of the MPO patch cord?
The MTP / MPO series is a group of highly innovative products that have brought optical transmission to a new era.
It is widely used in the data center SAN / Enterprise Network / Campus Network...
4.What are the MPO patch cord ETU-Link can supply?
ETU-Link can supply the MPO patch cord as the upper said. Any problems, welcome to contact our sales at sales@etulinktechnology.com.
Related Tags : Patch Cords MPO Patch Cords fiber optic
Previous :Optical module solutions for Ruijie RG-S5750-28GT-L switch
Next :What are the interfaces of the 40G QSFP+ optical module?