Knowledge of 10G SFP+ BiDi 60KM
May 21,2018 13:49:06
As we all know , with the development of the fiber communication , the higher speed and min-cost are becoming more and more important in the market.
According to the global market , we remote the 10G SFP+ Bidi to you.
Hope it can be helpful for you and your business.
1. The product parameter of 10G Bidi 60km
No.

ETU P.N.

Rate

Wavelength
(nm)

Material

Distance
(KM)

Packaging

Connector

Temperature
(℃)

Price
($)

10G BIDI 60KM

1

ESPB2392-3LCD60

10G

T27/R33

DFB+PIN

60

SFP+

LC

0~70

?

2

ESPB3292-3LCD60

10G

T33/R27

DFB+PIN

60

SFP+

LC

0~70

?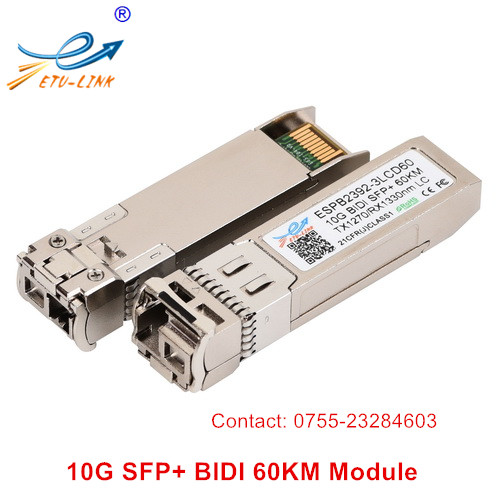 2. The Application of 10G Bidi 60km
a. WDM device for the solutions in the telecom and datacenter.
b.Telecom System.
c. 10G SFP+ port of Switches.

3. Why use 10G Bidi 60km?
Save cost : Single fiber only has one connector and when we connect it with 1 patch cord, it can only use one patch cord, but the dual fiber are all for two...
so 10G SFP+ Bidi single fiber can save the cost , and the dual fiber has more cost than the single fiber solution...
For the long distance transmit , it can save a lot of cost of the fiber optic.
4. The advantages of 10G Bidi 60km supplied by ETU-Link
a. Price : ETU-Link are as a very professional manufacturer in the Optical Fiber market, and the price is very competitive .
If you want know more, pls tell us how many you want , then we will try our best to support you.
b. Quality : Five testing before packaging to ensure the quality of every modules. ---- Material testing / Product parameter testing / Distance testing / Switch testing / Aging testing
c. Three years warranty.
d.OEM & RMA service for all the optical modules.
e. passed ISO9001 quality system certification and ROHS,CE,FCC,TUV.
10G BiDi 60KM optical transceiver may be a little expensive than the common optical module, but it can save you the cost of optical fiber from the whole network program. ETU-Link offers various rate compatible BiDi modules, has 3-5K stock every month. If you plan to purchase BiDi modules to build or upgrade the network, welcome to contact us or visit our website! www.etulinktechnology.com
Related Tags : BIDI SFP+ module BIDI XFP module 10G SFP+ BiDi Transceiver Module
Previous :Why are MTP/MPO patch cords widely used?