25G Technology: The best solution for the new generation data center
September 21,2018 19:01:11
25G Ethernet has already hit the network world at an unexpected speed and may eventually become the fastest completed IEEE Ethernet standard.
What is 25G Ethernet?
25G Ethernet set based on IEEE 802.3by agreement, which can realize 3 to 5 meters of copper double axis and 100 meters of multimode optical fiber transmission, designed to meet the needs of more customers, namely the speed of 10G Ethernet standard can not meet the needs of large and medium-sized enterprise network traffic growth, and 100G speed standard is too high, it has a little waste, so the emergence of 25G Ethernet standard is just made up for the inadequacy of the two.
Why is 25G?
When the server rate starts to move from 10G to a higher rate, the current 10 GE optical fiber and other basic components are already built, when upgrading, switching 40GE will result in a large resource investment, and can't protect the original investment, However, 25GE is fully compatible with 10GE related physical standards,enabling rapid switching and protecting existing investments. Therefore, from the perspective of resource input and cost, 25GE will be the best choice for server upgrade.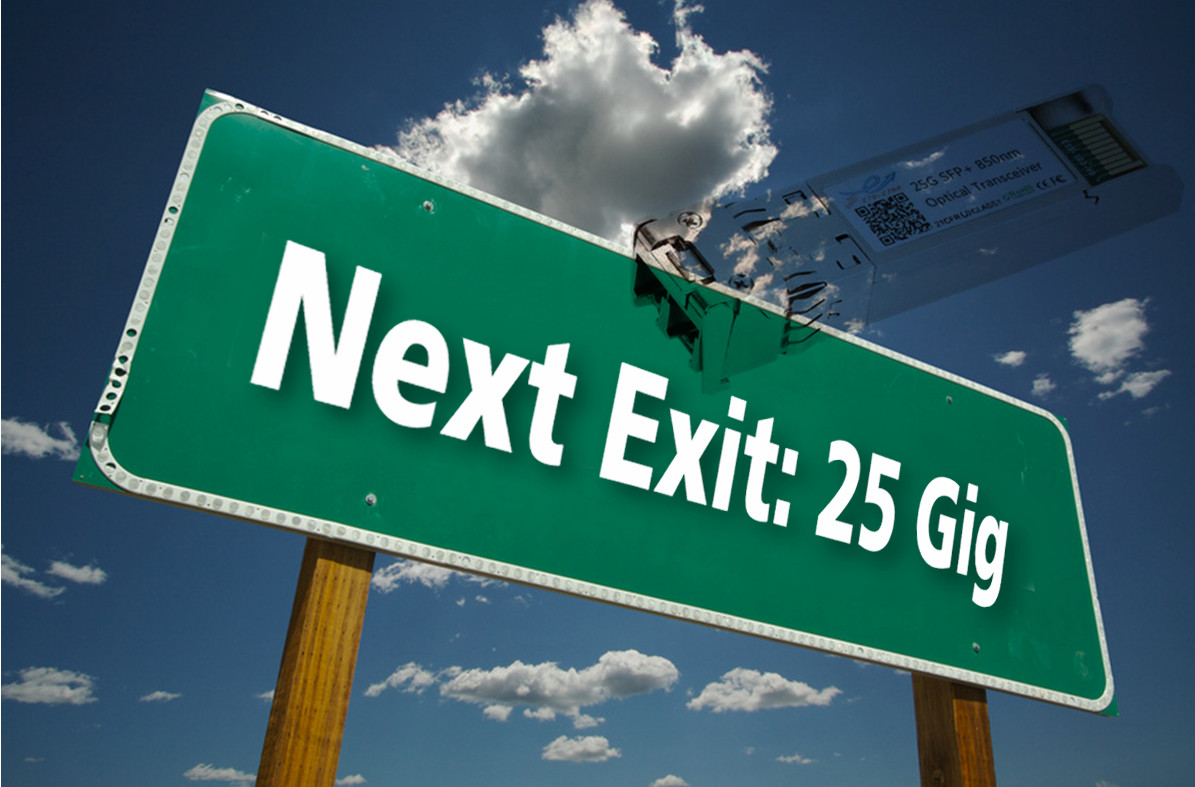 What are the significant performance advantages of 25G?
Optimal input/output (I/O) performance and fiber capacity;
It

is 2.5 times the performance of 10G Ethernet;

Port density is higher;
S

av

ing

capital expenditure

and

operating expenses;

Fewer number of ToR switches and cables required;
L

ower cost and lower power consumption;

W

ith 100

G

Ethernet standard complement each other.
What are the 25G products?
SFP28 25G SR optical transceiver
The 25G-SR SFP28 Optical Transceiver is a single-channel, pluggable fiber-optic SFP28 optical transceiver for 25 Gigabit Ethernet and Infiniband EDR applications. The module's proven circuitry and VCSEL technology that provide reliable long life, high performance, and consistent service.
SFP28 25G LR optical transceiver
The 25G-LR SFP28 optical transceiver is a SFP28 packaged optical transceiver that supports 25Gbps data rate and supports hot plug. It reflects the mature circuit and technology of ETU-Link and provides reliable, efficient and continuous services.

25G SFP28 AOC Active Optical Cable
The SFP28 active cable is an SFP28 connector that is directly connected to the fiber optic assembly. They are suitable for very short distances and provide a cost-effective way to connect between the rack and adjacent racks.
25G SFP28 DAC Direct Connected Passive Copper Cable
25GE SFP28 passive copper cable provides customers with 25Gb/high bandwidth data interconnection capability. It complies with IEEE P802.3by Ethernet standard and SFF-8402 SFP28; it can support distance range from 1m to 5m. This product is widely used in data center or supercomputer center system scenario.
Although 25G has certain advantages over others, it is better to choose the right speed in different scenarios. It is not necessary to force the arrangement to avoid losing more.
The research, development and production of the long-term deep-cultivation transceiver of ETU-Link, the SFP28 25G SR and SFP28 25G LR series optical transceiver and 25G cables are the mature 25G Ethernet products in the industry, which can meet various demands of operators to upgrade data centers.For more information about 25G Ethernet, welcome to visit the website: http://www.etulinktechnology.com.
Related Tags : SFP28 25G SR SFP28 25G LR SFP28 DAC
Previous :Look back 2018, Embrace 2019
Next :What are the DDM, DOM, and RGD function of the optical module?