November 13,2017 16:56:00
In today's era of big data, there is more and more demand for high speed and high bandwidth, eager to have a new product as the main transmission medium for high performance computing and data center, so the active optical cable (AOC) was born in this environment. Today, ETU-Link will introduce some knowledge about active optical cable in this blog.
1.Which is AOC?
AOC is the short of

Active Optical Cable

, and it looks like the copper cable, but different in the using transmit types and environment.
Also, AOC use a optical cable to connect two higher density connectors, and you can check is as the following: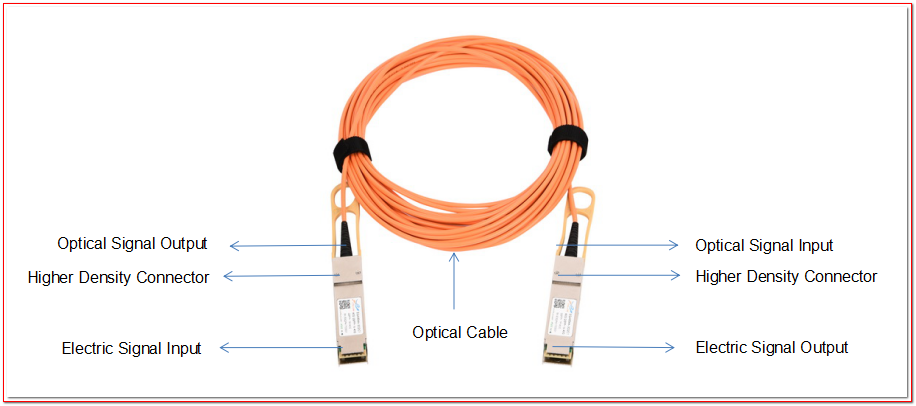 2. Advantages of AOC:
a. Lower power consumption;
b. Small volume;
c. Light weight ;
d. Strong heat dissipation;
e. Long transmitt distance;
f. No pollution for the connection port;
g. Good stability.
3. Application for AOC:
a. AOC applied on the Switches:
40G QSFP+ AOC

to 4*10G SFP+ AOC can connect 2pcs 40G Switches, and it can also connect the 10G switches with the 10G Network Card:

b. AOC applied on the engine room:
AOC can be used for the data center switch and chassis connecting under 5-30m, if under 5m, the best choice is for

DAC,
If over 30m, it would be better that choose the modules and patch codes.
4. Quality for AOC:
ETU-Link is very strict in the quality of every products, also for the AOC,
Every AOC will be tested in the switches before packaging.

The AOC cable provided by ETU-Link can achieve high rate transmission, which is the best solution for high-performance computing and storage applications. We not only provide the AOC cable in the above diagram, but also provide other AOC cable related products that can be compatible with CISCO, HUAWEI and other major brands. In addition, ETU-Link also provides customized service for length of AOC cable, which can meet your diverse needs. If want to know more about the detailed information about this product, welcome to visit our website:

www.etulinktechnology.com.
Related Tags : Active Optical Cable 10G SFP+ AOC 10G SFP+ active optical cable
Previous :40G&100G Data Center Solutions