Digital Diagnostic Monitoring
April 20,2016 10:04:27
With the development of the information society,people's requirements on the capacity of the communication systems and the transmission rate as well as the level of service continue to improve.The telecom networks are becoming more and more large,and the management of the communication link is becoming more and more complex.People are eager to adopt the intelligent performance test technology to solve this increasingly prominent problem.Digital Diagnostic Monitoring of the optical transceiver provides such a low cost performance test method.
As long as you are engaged in the industry of optical communication,should know what is DDM and the fucnction?Below is a brief introduction of DDM.
DDM

means

Digital Diagnostic Monitoring

,it's

functions

are as follows:
1.Monitoring the working temperature
2.Monitoring the working voltage
3.Monitoring the working current
4.Monitoring the TX and RX Power
5.Show the factory information of the optical transceiver
6.Prompt warning/alarm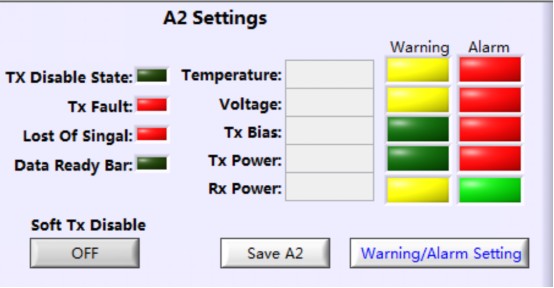 Through the real-time monitoring the working voltage and working temperature inside the optical transceiver,the system administrator can find some potential problems:
1)If the

Vcc voltage is too hgh,will breakdown the CMOS device

,if the

Vcc voltage is too low

,the laser

can not work properly

.
2)

If the receiving power is too high,it will damage the receiving module

.
3)If the working temperature is too high,it will accelerate the aging of the device.In addition,through monitoring the received optical power,can control the performance of the circuitry and the remote transmitter.
The application of the digital diagnostic monitoring:
The DDM function of the module can provide a performance monitoring tool for the system,can help the system manage and predict the life of the module, isolate the fault system and verify the compatibility of the module in installation.
The appearance of the optical transceiver with DDM and without DDM is the same,just some differences in the internal circuit. If the optical transceiver without DDM function,once the product has problems,it will not prompt alarm.
Whether it is a single fiber or dual fiber,our optical transceivers are with DDM function as long as the transmission distance is more than 40km. Our team is constantly growing,I am always too. Hope I will become a excellent staff of ETU-Link Technology C.,Ltd,as a good colleague in the eyes of our colleagues and the excellent employees in the eyes of the boss.
Related reading: Lower insert loss optical fiber SFP+ transceiver compatible
Related Tags : Optical transceiver Lower insert loss optical fiber SFP+ transceiver compatible
Previous :How To Chose The Good Optical Ttransceiver?