How to View the DDM Information of Optical Transceiver?
June 04,2018 21:22:21
As we all know, Optical transceivers support DDM functions, which enable real-time monitoring of modules' parameters.
And the DDM information, we can read via switch equipment, simple network management protocol(SNMP).
1.The Useful DDM Function on Optical Modules
DDM is a function available on optical transceivers, including SFP, SFP+, XFP and GBIC, and is also known as digital optical monitoring(DOM).
It enables users to monitor parameters of modules, such as optical output power, input power, temperature, voltage, in real time.
2.How Does DDM Work?
The DDM function works on the basis of the reference values defined in SFF-8472.
Table: Transceiver parameters defined in SFF-8472.

3.DDM Offers More Than Monitoring
In addition to real-time monitoring, DDM function is also able to be used for fault prediction.
Besides, the DDM function can be used to isolate the particular location of fault in fiber optic network system.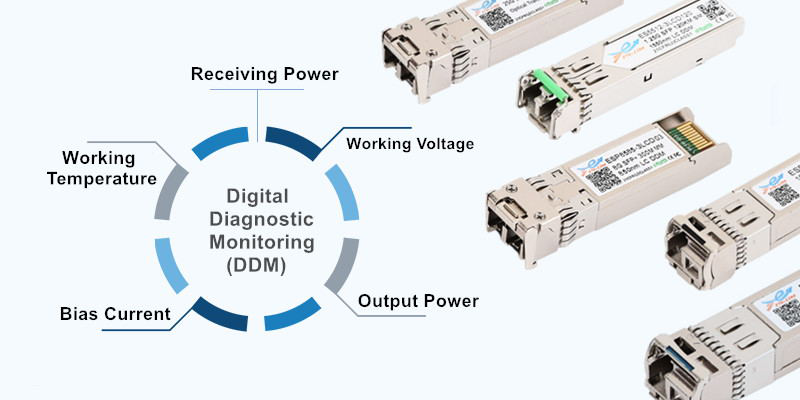 4.How to View the DDM Information of Optical Transceiver via SNMP?
SNMP is a technology used in network monitoring.
It consists of 3 key components, managed devices, agents, and network management systems(NMSs).
Specifically, need switches, a software which runs on switch, and an NMS runs monitoring applications.
Not all fiber optic transceivers support DDM/DOM, so it is necessary to check if it supports the function or not. Otherwise, all the efforts will be in vain.
Do you have more interest about it? Welcome to visit our company in the future, we will show you how ETU-Link view the DDM in our equipment.
Related Tags : 10G optical module Optical Transceiver optical module
Previous :What is CSFP?