December 04,2017 18:33:16
Now the DAC is widely used in the SATA device, RADI system, Core routers and 10G or 40G Ethernet data center.
But what is the DAC? Why customers choose it? What are the advantages of the DAC?
Today we will tell you the answer!
1/ What is the DAC?
DAC is the short of the

Direct Attached Cable

, and the connector of DAC is the same as modules'. But compared with modules, DAC connectors don't have the expensive laser and other electric chips, so it save much cost in the short distance transmission and as a replacing of the modules in the lower cost, higher benefits network solution.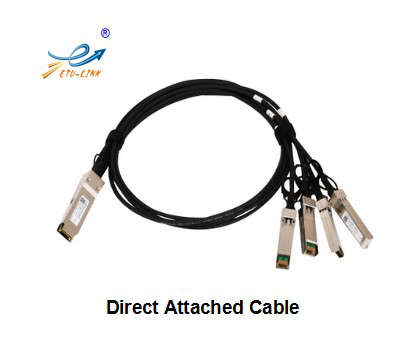 2/ What is the structure of DAC?
DAC is made of the silver plated conductor and foam insulated core wire, using the shielding ways to form a higher speed cable.
DAC have the excellent attenuation performance, low latency and anti-interference. Also it can realize the high-frequency broadband transmission.
3/ What are the advantages of DAC?
a. High performance: used in short-distance data center cabling, using a wide range of integrated solutions exchange ability.
b. Energy saving and environmental protection: high-speed cable internal material is copper, copper natural cooling effect, energy saving.
c. Low power consumption: passive cable power consumption is 0, and active is about 440mW;
d. Low cost: copper prices are much lower compared with the

optical fiber.
4/ Which DAC cable can ETU supply.
ETU-Link

company has been as a professional manufacturer of optical modules for many years,and every product will have the testing before packaging to ensure the quality.
For the DAC , we can offer :
10G SFP+ to 10G SFP+ DAC 1m-15m
40G QSFP+ to 40G QSFP+ DAC 1-15m
40G QSFP+ to 4*10G SFP+ DAC 1-15m
25G SFP28 to SFP28 1-15m
100G QSFP28 to QSFP28 1m

ETU-Link

is a professional provider for high-speed data connection product solutions, is a high-tech enterprises sets R & D, production and sales in one.
〖Major compatible brands〗
CISCO / HUAWEI / 3COM /ZTC / Extreme / Foundry / Juniper / Cabletron / Nortel / D-Link / H3C / Allied Telesis / NETGEAR / IBM / DELL / HP / Alcatel / ZyXEL switch, router, server, firewall products of many manufacturers.
We hope that unscheduled knowledge sharing will grow together with you! Thank you!
Related Tags : Direct Attached Cable 10G SFP+ to 10G SFP+ DAC SFP Optical Transceiver
Previous :R&Q for 10G optical transceiver