40G QSFP+ ER4 optical module product features and application
November 26,2019 20:10:44
The 40G QSFP+ ER4 optical module has the technical advantages of long transmission distance, high efficiency, low management cost and so on, which is essential in the construction of data center network. Today ETU-Link will introduce the 40G QSFP+ ER4 optical module in detail.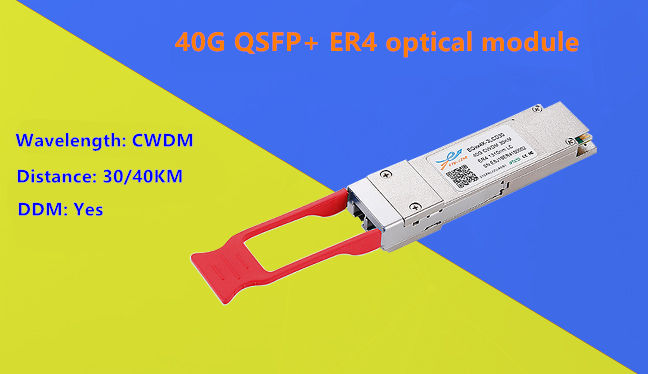 40G QSFP+ ER4 optical module:
| | | | | |
| --- | --- | --- | --- | --- |
| PN | Abbreviation | Wavelength | Distance | Pictures |
| EQxx4X-3LCD30 | Lite ER4 | CWDM | 30KM | |
| | ER4 | CWDM | 40KM | |
The 40G QSFP+ ER4 optical module adopts CWDM transmission technology, which is usually used with LC duplex connector. The transmission distance can reach up to 40km through single-mode fiber (SMF), and it can support DDM function. The 40G QSFP+ ER4 optical module converts four 10G data input channels into four CWDM optical signal channels, with the number rate of each channel as high as 11.2Gbps, and multiplexes them into a single channel.
Product features:
v Conform to QSFP+ MSA
v Conform to IEEE 802.3ba standard
v Four CWDM uncooled DFB lasers, using ITU g.694.2 wavelength grid at 1271, 1291, 1311 and 1331nm
v High sensitivity APD-TIA with optical demux
v Standard single-mode fiber up to 30/40km
v Hot swappable electrical interface
v Working temperature:0°C~+ 70°C
v 3.3V power supply
v RoHS 6 compliant (lead free)
Application area:
v 40GBASE-ER4 Ethernet link
v Infiniband QDR and DDR interconnection
v Client 40G telecommunication connection
Application: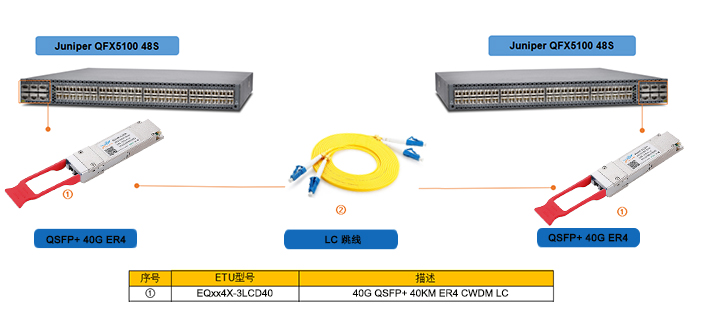 The 40G QSFP+ optical module provides 40G Ethernet connection and transmission applications with high density and low power consumption. ETU-Link can provide QSFP+ series optical module products for 40G network construction. At present, 40G QSFP+ optical module is an important part of the network system. Thank you for your support!
Related Tags : 40G QSFP+ ER4 QSFP+ ER4 optical module optical module
Previous :Introduction about 16G SFP+ BIDI optical module
Next :Characteristics and working principle of 100G QSFP28 LR4 optical module