How to select GLC-T, GLC-TE and SFP-GE-T Copper SFP module?
June 11,2018 09:21:00
There are three types of Cisco gigabit electrical port: GLC-T, GLC-TE and SFP-GE-T.
They are all RJ45 interface, the transmission distance is 100m, it is a kind of cost savings of gigabit Ethernet connection solution, such as the data center, access, storage area network applications, so the three types of products are often difficult to distinguish. So what are their difference? Please follow ETU-Link steps to solve this puzzle!
GLC-T, GLC-TE and SFP-GE-T optical transceiver parameter
| | | | |
| --- | --- | --- | --- |
| Optical transceiver type | Description | Working temperature | Product picture |
| GLC-T | Cisco GLC-T SFP 100m | COM | |
| GLC-TE | Cisco GLC-TE SFP 100m | EXT | |
| SFP-GE-T | Cisco SFP-GE-T SFP 100m | EXT | |






It can be seen from the above table that the working temperature of GLC-T is not the same as the latter two ,and GLC-TE module can be used as a substitute for GLC-T module. The SFP-GE-T module has NEBS 3 ESD function that neither of the previous of them.
What does NEBS 3 ESD mean?
NEBS is the abbreviation of network equipment building system. It is a set of standards for building network equipment that can withstand various environmental pressures. NEBS has three grades: 1, 2 and 3.
Level 1 refers to the minimum compatibility with the environment;
Level 2 is applicable to limited operability of product;
Level 3 (NEBS 3 ESD) certification ensures the maximum operability of equipment, it also proves that equipment is good under the condition of bad environment performance, does not interfere with other surrounding electronic devices, NEBS level 3 certified network equipment is vital importance in critical business applications.
In other words, compared with GLC-T or GLC-TE, SFP-GE-T module can withstand greater pressure and less prone to failure.
How to select GLC-T, GLC-TE and SFP-GE-T optical transceiver?
In fact the transmission effect of three electrical port module is similar, can choose any one gigabit transmission, but it is worth noting that the original Cisco GLC-T and SFP-G -T module has terminated sale on June 1st 2017, and replaced by GLC- E module.
If you are dealing directly with the telecommunications company (as required by NEBS), you need to select the SFP-GE-T module with NEBS 3 ESD function.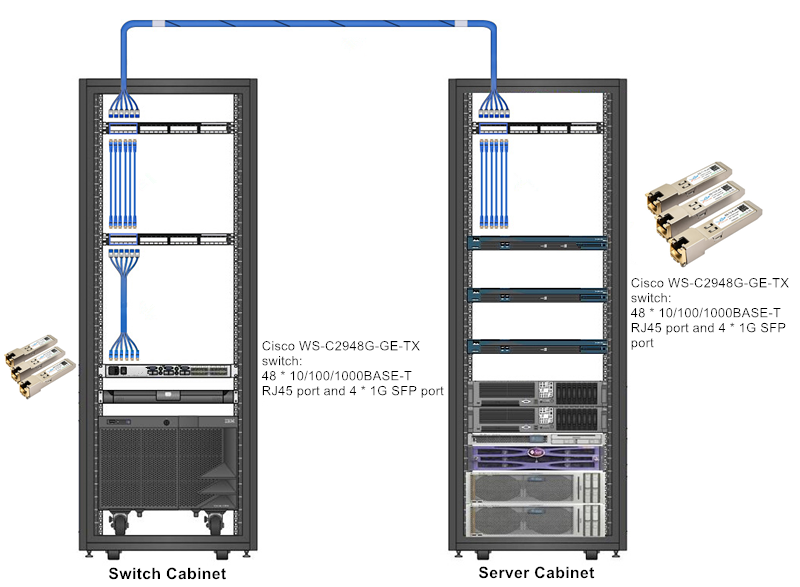 Cisco GLC-T, GLC-TE and SFP-GE-T are widely used in data centers and enterprise networks, and commonly used in networking equipment such as Cisco Catalyst 2970/3560/3750, it can provide 10/100/1000mbps transmission rate.
The Cisco compatible gigabit SFP module is hot sale, which can be 100% compatible with all brand switch equipment. If any interest, welcome to contact our sales at sales@etulinktechnology.com.
Related Tags : Cisco GLC-T Cisco GLC-TE Cisco SFP-GE-T
Previous :Basic Knowledge About GPON SFP Transceivers
Next :Which optical modules and optical cables can be selected for deploying 10Gigabit Ethernet?