Installing optical module tutorial for HUAWEI switch
September 27,2017 14:57:48
In the switching field, HUAWEI has accumulated a large number of industry-leading intellectual property rights and patents, can provide hundreds of switch products from core to access. HUAWEI S5700-24TP-SI(AC) switch is one of the more popular products. Today, we'll share the information of this switch and its installation notes.
HUAWEI S5700-24TP-SI-AC is a Gigabit Ethernet switch, the application layer is three layers, switch type is a cassette switch. Size (width x depth x height) 442mm×420mm×43.6mm, weight is 3.9Kg, backplane bandwidth is 256Gbps, internal storage is 256MB.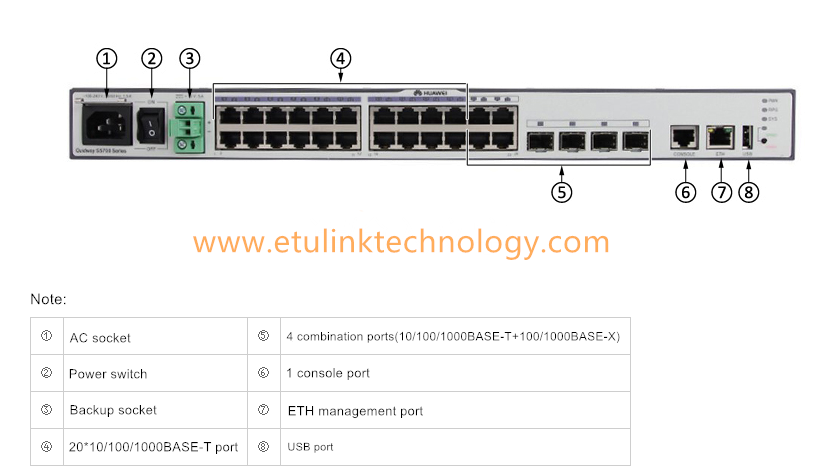 Installation module tutorial of HUAWEI S5700-24TP-SI(AC) switch
To avoid component damage caused by improper operation, we should strictly follow the following procedures for installation.
Step 1: Antistatic strap must be worn to prevent static damage.
Step 2: Take out the optical module, ring and label up, the gold finger is facing down, Note that the right and the negative can not be reversed.
Step 3: Turn the snap of the module so that it snaps the knob at the top of the module. Hold the two sides of the

optical transceiver module

and gently push the module into the slot.
Common optical modules used on HUAWEI S5700-24TP-SI (AC) switches
| | | |
| --- | --- | --- |
| HUWWEI Model | ETU Model | Description |
| | | 1000M SFP Copper-T RJ45 100m |
| | | 1.25G SFP 850nm 550M DDM |
| | | 1.25G SFP 1310nm 10KM DDM |
| | | 1.25G SFP 1310nm 40KM DDM |
| | | 1.25G SFP 1550nm 40KM DDM |
Module installation is an important factor affecting the service life of switches and modules. In the installation process, be sure to follow the installation steps mentioned above and pay attention to the details, so that your switch module can be used more longer. ETU-Link can provide optical transceivers that match HUAWEI's common model switches, Quality has been through strict quality inspection system, you can rest assured to buy.
More details, welcome to visit our website:

www.etulinktechnology.com.
Related Tags : optical transceiver module Installing optical module tutorial SFP optical transceiver
Previous :Is it possible that SFP optical modules be used on the SFP+ port?