Is it possible that SFP optical modules be used on the SFP+ port?
September 29,2017 14:13:33
We are often confused on the compatibility of SFP and SFP+, confused that we don't know if we can use the

SFP optical module

in the SFP+ slot. It's a headache for many engineers, today we will focus on this problem.
The SFP optical module can plug into the SFP+ port in most cases.
According to experience,

CWDM SFP optical transceiver

can run in the SFP+ slot, but the SFP+ module cannot run in the SFP slot. When you plug the SFP module into the SFP+ port, the speed of this port is 1G, not 10G. Sometimes this port will lock at 1G speed until you reload the switch or make some commands.
In addition, SFP+ ports usually do not support speeds below 1G. That is to say, we can't insert 100BASE SFP optical module on SFP+ port. In fact, for this problem, it depends largely on the model of switch. Sometimes SFP can be supported on the SFP+ port and sometimes does not support it. For example, all SFP+ ports of almost all CISCO switches support the SFP optical module, many SFP+ ports of the Brocade switch only support SFP+. Although it is often feasible, the information required by the switching vendors is more secure.
SFP optical module in SFP+ port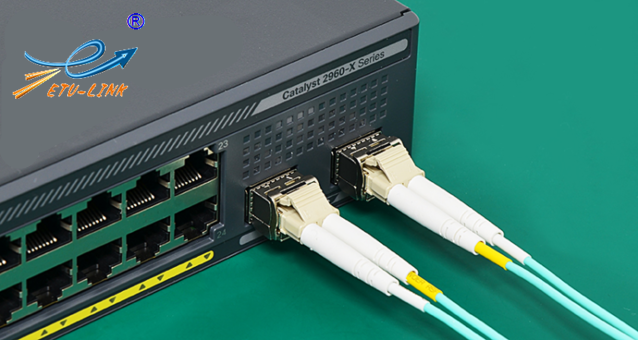 SFP+ can not automatically compatible with the 1G to support SFP optical modules
As far as I know, the copper SFP is different from the 10/100/1000 compatible in automation, fibers such as SFP and SFP+ do not support automatic compatibility. In fact, most SFP and SFP+ will operate at rated speeds only.
In many cases, we can use the SFP optical module at the SFP+ port, however, this does not mean that SFP+ inserts into the SFP+ port can support 1G. In the fiber link, if we plug the SFP optical module into SFP port (1G), then plug SFP+ module into the SFP+ port(10G), and it may not work properly! For this problem, if you use the SFP+ high-speed cable, it can't be compatible with 1G.
When using the SFP and SFP+ optical modules in the network, make sure that the speed at both ends of the fiber link is the same. 1G SFP optical module can be used in the SFP+ port, but not connected to the SFP+ optical module.For different speeds, transmission distances and wavelengths, 10G SFP+ optical module can only be used for 10G SFP+ port, can never automatically compatible to 1G.
If want to know more about SFP modules or other related optical communications knowledge, welcome to visit our website: www.etulinktechnology.com.
Related Tags : SFP optical module CWDM SFP optical transceiver SFP+ optical modules
Previous :What are the DDM, DOM, and RGD function of the optical module?