Strong release low power SFP+ LR optical transceiver
November 14,2017 09:14:48
With the company's steady development, engineers are working hard and continuous R & D high-speed optical module. ETU-Link officially released a new generation of 10G optical transceiver —— ESP3192-3LCD10, SM 10KM. This 10G SFP+ optical transceiver is ETU-Link's new generation of high performance 10G optical transceiver, which is developed by using the industry's most advanced optoelectronic devices and IC and combined with many years of high-speed optical transceiver R & D experience.
Features:
◆ Low power consumption, energy saving.
Power consumption=Current × Voltage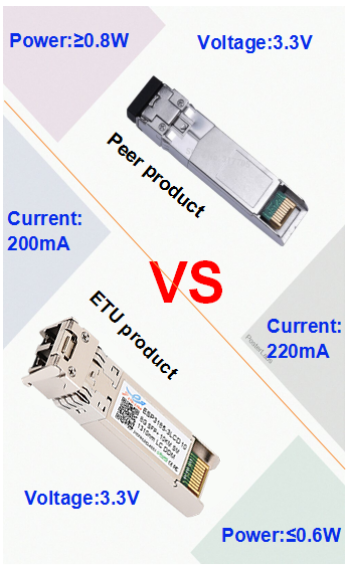 Compared with other transceivers, ours can save 40%-50% power, enable customers to maximize the profit space.

◆ Excellent PCB design, high temperature resistance, good heat dissipation performance.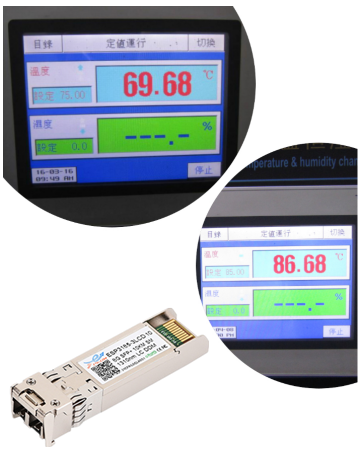 Our 10G SFP+ LR fully comply with IEEE 802.3ae 10GBASE-LR standard and SFF-8431 and SFF-8472 specifications. Also meet the RoHS standard requirements. Also successfully passed the interoperability test with industry mainstream 10G switches, routers. ESP3192-3LCD10 has completed the DVT and 2000-hour PQT, 5000-hour PQT is in the process.

ETU-Link is committed to creating a foothold in China's best high-end optical transceiver (10G-40G) design and manufacturing company. Our aim is to provide high-quality products and services for the high-speed growth of China's communications field,and to provide design and manufacturing services to foreign markets.

For more information about the module and ETU-Link, please visit www.etulinktechnology.com or directly contact our sales team: sales@etulinktechnology.com.
Related Tags : Optical transceiver 10G optical transceiver SFP+ LR optical transceiver
Previous :What preparations we need to do when customer reception?(1)