What are the DDM, DOM, and RGD function of the optical module?
October 12,2017 11:16:08
If you are the first time to buy optical transceivers, you might be confused with "DDM", "DOM" or "RGD". What are they? Today, ETU-Link will describe in detail the functions of these three types of optical modules.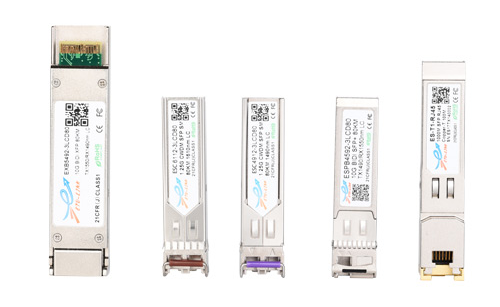 What is DDM?
DDM means Digital Diagnostic Monitoring. It is the technique used in the optical module so that users can monitor the real-time parameters of the module. Including modules' working temperature, working voltage, working current, TX and RX Power etc, can also show the factory information of the optical transceiver, prompt warning/alarm.
The DDM function of the module can provide a performance monitoring tool for the system, can help the system manage and predict the life of the module, isolate the fault system and verify the compatibility of the module in installation.
What is DOM?
DOM means Digital Optical Monitoring. Its function is similar to DDM, allows you to monitor all aspects data of optical module in real time. Such as modules' transmit and receive, input and output power, temperature and voltage. The network administrator checks these data to make sure that the optical module is working properly.
Obviously, optical modules with DDM/DOM function are better than optical modules without these functions, therefore, most optical modules conform to the SFF-8472 standard and can support DDM/DOM function.
What is RGD?
RGD means rugged optical modules, so the optical module with RGD function is an enhanced module. This optical module is more durable and can be used in very harsh conditions. The rugged optical module has enhanced ESD protection and a greater range of operating temperatures. Thus, field failures can be eliminated, not need expensive external protection devices.
Recommended

optical module with DDM
| | |
| --- | --- |
| Product Model | Product Description |
| | 1.25G SFP 850nm 550M LC DDM |
| | 1.25G SFP 1310nm 20KM LC DDM |
| | 1.25G SFP 1310nm 40KM LC DDM |
| | 1.25G SFP 1550nm 80KM LC DDM |
| | 10G SFP+ 850nm 300M LC DDM |
| | 10G SFP+ 1310nm 10KM LC DDM |
| | 10G SFP+ 1310nm 40KM LC DDM |
| | 10G SFP+ 1550nm 80KM LC DDM |
The optical modules listed above are available by ETU. In addition, we also supply other modules compatible with HUAWEI, H3C and other major brands, varieties of models and styles for you to choose. More SFP optical modules tutorials and solutions, welcome to visit our website:
www.etulinktechnology.com.
Related Tags : 10G SFP+ Transceiver 1.25G SFP CWDM Transceiver Digital Optical Monitoring
Previous :What factors we should consider when deploying 40G Ethernet?
Next :Is it possible that SFP optical modules be used on the SFP+ port?